It has been nearly 2 month since my last post, not because of lack of things to share, but lack of energy… But after a renewing Saint Jordi's Day, I'm ready to show you a work I've been trying to sew many times. Time and some fear on using one of the most powerful  functions of my sewing machine, are responsible for the delay. But once overpassed my fears and taking advantage of the pros of this process, I have finally ended up in a new mini mantelpiece, what currently was supposed to be a baby changer for my daughter´s doll, which finally was transformed in a tiny blanket for the doll…
I have plenty of room to perfection: thread tension, having better control of the machine avoiding to stop whenever I 'm faster that needed or make her go wherever I want, but as a starting point and remove my fears I'm quite happy with the result, which one will be the next labour I'm daring to try?
Well don't worry I'll show it to you next time, but for the time beeing I'll leave you with the current test: the playing doll blanket…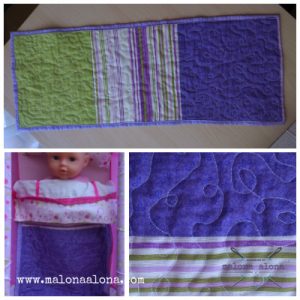 Have a nice week!